Manchester Pride: A Week of Celebration and Joy
Manchester Pride is one of the biggest events in the city!
Manchester, known for its rich cultural tapestry and inclusive spirit, is set to dazzle once again as it prepares for a five-day extravaganza of love and unity during the 'Freedom To Be' Pride celebrations. From the 24th to the 28th of August, the city will come alive with a kaleidoscope of events, and at the heart of it all is the Ducie Street Warehouse in the bustling Northern Quarter. As the city gears up for this spectacular August Bank Holiday celebration, here's what's in store for Manchester Pride Week.

Manchester Pride Events
Thursday, 24th August to Monday, 28th August
Manchester, 24th August 2023 – The vibrant city of Manchester is gearing up for an incredible five-day celebration of diversity and love as 'Freedom To Be' Pride parties sweep through the city from Thursday, 24th August, to Monday, 28th August. And where else to revel in this glorious celebration than the Ducie Street Warehouse, in the heart of the lively Northern Quarter?
Conveniently situated right next to Manchester Piccadilly Station and within a leisurely stroll from the bustling Canal Street, the Ducie Street Warehouse is your ultimate destination for a memorable August Bank Holiday Pride experience. They've got a fantastic lineup of events planned, catering to all tastes and ages.
Thursday, 24th August – Let the Party Begin!
The party kicks off on Thursday, 24th August, with live vocal and piano performances from the incredible Chevone S Duo. It's an evening not to be missed, filled with soulful melodies and infectious beats.
Also on the 24th, Cork & Canvas returns to the warehouse for a creative session where you can 'Paint Your Own Pride Parade Banner' in preparation for the weekend parade. Tickets start at just £25, and you can book tickets here.
Friday, 25th August – Get Ready to Dance!
On Friday, 25th August, the charismatic DJ and Drag Queen sensation, Jodie Harsh, takes over the decks in the lounge. Joining her is DJ Mike Slade, along with gogo dancers and live percussionists. Expect an exhilarating mix of House, Disco, Pop, and high-energy performances that will have you dancing all night long. And guess what? It's absolutely free! Reserve your spot now.
Saturday, 26th August – Brunch and More!
Saturday, 26th August, is all about the Pride 'Club Kids Disco' Brunch. Enjoy mouth-watering dishes, bottomless drinks, and a special DJ set with live performances that will keep the party spirit alive.
Sunday, 27th August and Monday, 28th August – Savour the Flavours
On Sunday, the warehouse serves up its award-winning Sunday Roast, and on Monday, indulge in an all-day Bloody Mary brunch. It's the perfect way to wrap up your Pride weekend.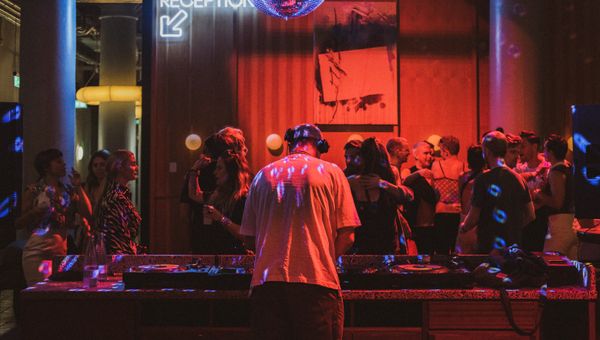 But that's not all; Albert's Schloss, Manchester's German-inspired pleasure palace, is joining in on the fun too. From Thursday afternoon until the early hours of Monday morning, they'll be hosting a spectacular Pride celebration. Enjoy Après Work drink offers, special Pride Cabaret performances, live bands, and DJ sets. Plus, tantalise your taste buds with indulgent drink offers courtesy of Absolut.
Where to Stay in Manchester
For those travelling to Manchester, there are excellent accommodation options near the action. Native Manchester, just next to Manchester Piccadilly station, is the ideal spot for those who want to be at the heart of the action. They're even hosting free Pride parties at Ducie Street Warehouse.
Residents INN is another great choice, with a minimum 2-night stay requirement to fully immerse yourself in the festivities. And for those looking to explore the city further, INNSiDE Manchester offers a contemporary lifestyle hotel experience, right in the city centre.
So, get ready to embrace the spirit of Manchester Pride and celebrate love, diversity, and unity in style. Whether you're dancing the night away or savouring delicious dishes, Manchester's Pride week promises to be a memorable one for all.
Featured image Image by Giorgos Arapekos from Pixabay
---
BUY NOW ON AMAZON
Leo's Ladder
Leo finds a ladder. He would really like to keep it but decides the right thing to do is search for its rightful owner. Read about Leo's adventure, a story about honesty, friendship and community.