Knutty Mums Book Review of Leo's Ladder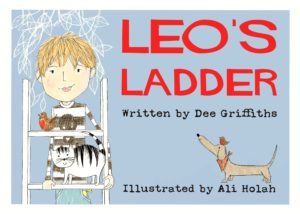 It is rewarding to hear how Leo's Ladder is being received by the little ones and their parents . Ali and I met with Emily from a local website dedicated to providing information to parents. It is a comprehensive site, that covers holiday activities and events to entertain both parents and children.
Knutty Mums creator Emily has very kindly written a review of our book, Leo's Ladder. Getting feedback is so important to us! We love the fact that her son has been motivated to write now too.   Please read all about it on her site, www.Knuttymums.com
---
BUY NOW ON AMAZON
Leo's Ladder
Leo finds a ladder. He would really like to keep it but decides the right thing to do is search for its rightful owner. Read about Leo's adventure, a story about honesty, friendship and community.