Let's Make a Better World, Together
Anyone who follows my blog will know I'm an aspiring artist. After retiring as an Early Years teacher and reading recovery specialist, I've been able to spend my time pursuing hobbies long abandoned.
I hear this is an age thing!
A few times a year I'm lucky enough to sell a painting – usually to friends or acquaintances – and this kind of success makes me very happy…to know that a piece I spent hours on is being appreciated by another set of eyes; well, it's just wonderful. Thank you to everyone who has taken my work into their home and cherished it.
Having grown up on Long Island and spending so much of my youth at long, beautiful beaches, I now particularly enjoy painting seascapes. I love the way the sea changes colour every day – it's mesmerising and eternally inspiring. The sea and its many colours is a theme I go back to time and again. A few weeks ago, one of my larger, abstract seascapes went to a new home, courtesy of a charity raffle. I hear that the winner was delighted.
My friend, Richard and his husband Scott, hosted a fundraising event at a local landmark, The Lost and Found in Knutsford and I immediately offered up one of my paintings for the raffle. Keen readers will be interested to discover that this magnificent, historic building also features in my book, Leo's Ladder. It's the Victorian building that's being spruced up by the window cleaner and I felt it deserved a double page to showcase its splendour. I absolutely love this building!
Image above: The kind gentleman at table 9 who won the bid on my painting.
Image below: Carl Austin-Behan, Richard Illingworth-Harrison, Scott Illingworth-Harrison, Simon Austin-Behan.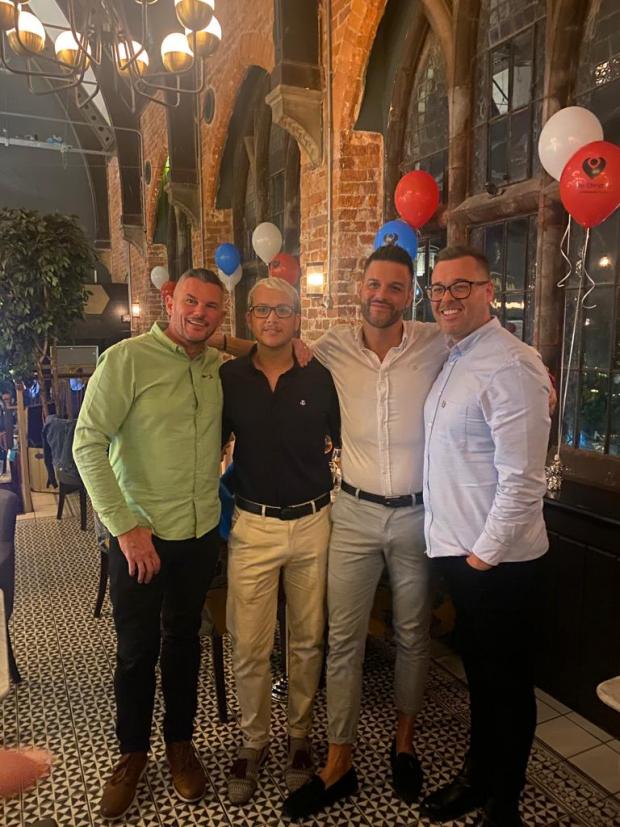 Image courtesy: Richard Illingworth-Harrison
Richard's event included a three-course dinner, lots of fizz, dancing, and of course the raffle, which raised more than £4,000 for his chosen, local charities – The Christie Charity, The Children's Adventure Farm Trust and Lower Moss Wood Wildlife Sanctuary. According to Richard, the event took many hours to organise, but seeing the community come together to support these three amazing charities, made it all worthwhile for my hardworking friends. Well done to all, as together we can all make this a better world.
IF you'd like an original painting for your home, contact me (click here).
If you'd like to find out more about Richard and Scott's charity, get in touch at https://www.richardharrisonhair.com
The event got some great press from The Knutsford Guardian; read more here:
https://www.knutsfordguardian.co.uk/news/23027505.cheshire-almanac-raises-4-000-special-charity-dinner
Learn more about local events in Knutsford:
https://www.knutsfordguardian.co.uk/
---
BUY NOW ON AMAZON
Leo's Ladder
Leo finds a ladder. He would really like to keep it but decides the right thing to do is search for its rightful owner. Read about Leo's adventure, a story about honesty, friendship and community.